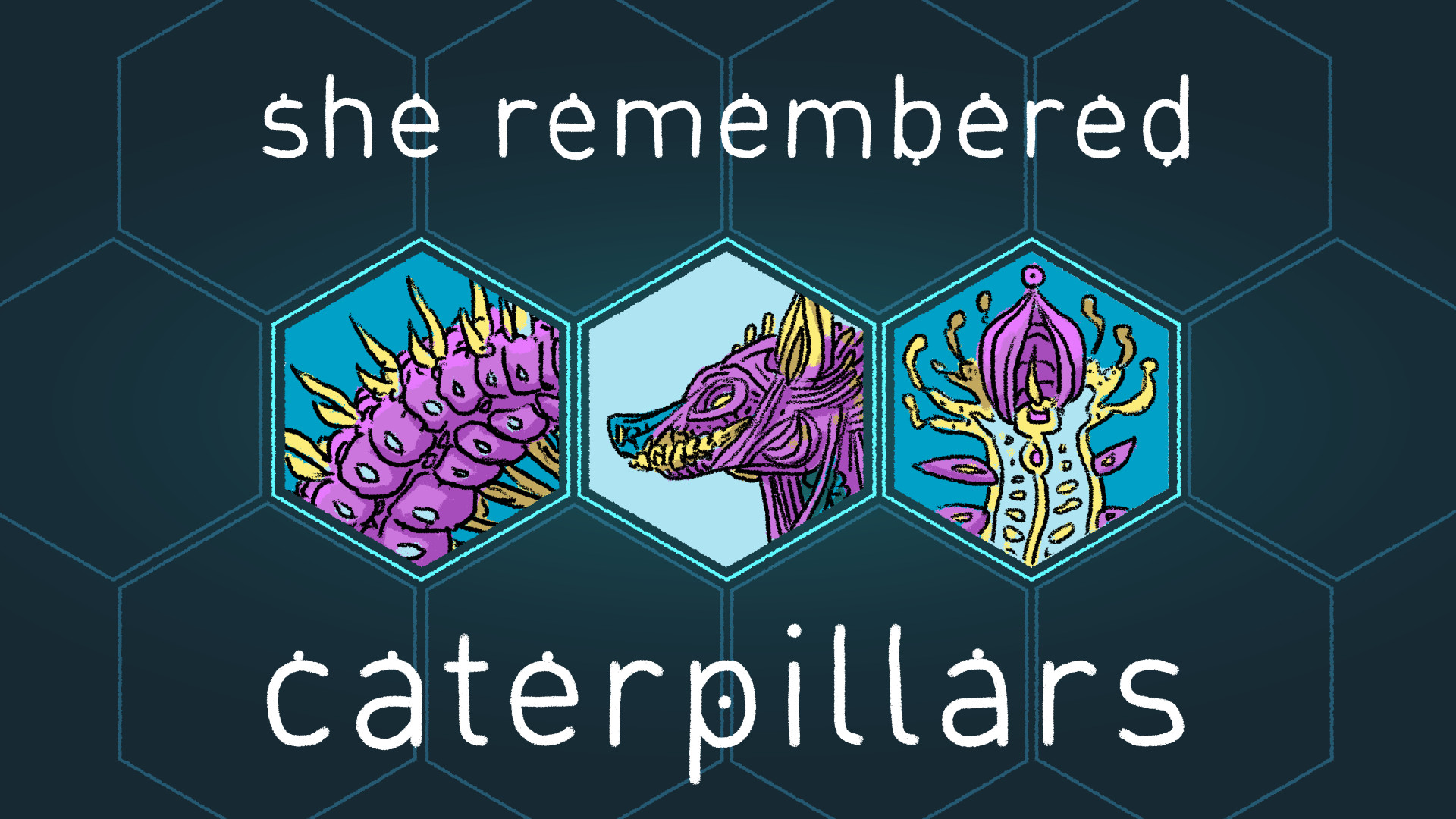 She Remembered Caterpillars
A downloadable game for Windows and macOS
She Remebered Caterpillars is a fungipunk fantasy about love, loss, and holding on, told in the format of a color-based puzzle game. A tale as the bond between parent and child, this lush and bewildering title will have players testing their wits against a variety of challenges, some devious, and others outright nefarious, but all beautiful and very, very strange.
Game design: David Priemer @davidpriemer
Visual design: Daniel Leander Goffin @danielgoffin
Story: Cassandra Khaw @casskhaw
Animation: Zach Cohen cohzach.com
Sound design: Christian Wittmoser
Music: Thomas Höhl @xavenos

--------------------------
DEVLOG: forums.tigsource.com/index.php?topic=44137
TWITTER: twitter.com/thejumpsuits
Use the comment section below, join the devlog or find us on twitter for feedback. We are looking forward to reading your input.
---------------------------
Controls
Move – Left Mouse Button (select character, then click where you want it to move)
Combine/Split – Right Mouse Button (Starting with chapter 8. To combine, select one character, then right-click on another. To split, right-click on a combined character)
Menu – Escape
---------------------------
David and Daniel
@thejumpsuits
jumpsuit-entertainment.com
| | |
| --- | --- |
| Status | Released |
| Platforms | Windows, macOS |
| Publisher | |
| Rating | |
| Author | jumpsuit entertainment UG |
| Genre | Puzzle |
| Tags | caterpillar, colour, Cute, Fantasy, Hand-drawn, loss, love, memories, remember, strange |
| Asset license | Creative Commons Attribution_NonCommercial_ShareAlike v4.0 International |
| Average session | About a half-hour |
| Languages | German, English, Spanish; Castilian, French, Italian, Portuguese (Portugal), Russian |
| Inputs | Mouse |
| Accessibility | Color-blind friendly, Subtitles, One button |
| Links | Steam, Homepage, Twitter, Support, Soundtrack, Developer, Publisher |
Install instructions
REQUIREMENTS
Win

OS: 7

Processor: Intel Core i5 1.5 GHz

Memory: 4 GB RAM
Graphics: Intel HD Graphics 4400
Storage: 3 GB available space
Minimum Screen Resolution: 1280x800
macOS

OS: 10.9 (Mavericks)

Processor: Intel Core i5 1.5 GHz

Memory: 4 GB RAM
Graphics: Intel HD Graphics 4400
Storage: 3 GB available space
Minimum Screen Resolution: 1280x800
Comments
Log in with itch.io to leave a comment.
Hi! Is there a way to claim this game to add it to my library for future download?
Is there a way to claim this game to add it to my library for future download? Also, there is a typo in the product description which says, "She Remebered Caterpillars" instead of "She Remembered Caterpillars".
Psst, the download link for the full macOS version leads to a 404 page. You may need to re-upload the file.
Finally it's coming out, everyone get on Steam now! Because by the time you're reading this it's probably already released. :)
First two Acts of the game, go buy it yourself though because it's worth it:
Thanks so much Jumpsuits for the months of hard work, it's inspiring to see something so big and beautiful come to a finished product. Hoping for many more from you guys.
I'd really like to give this game a try but it keeps launching with the wrong resolution for me, the one of my secondary monitor which I have set to portrait orientation. It happens with both the itch.io and the steam version. Is there a way to prevent the game from doing this?
Oh. That sounds weird. Can you send us a screenshot to info@jumpsuit-entertainment.com? Or attach on here via link?
Thanks for the screenshot. That looks odd indeed. We will try to solve this.
Does the game run normally if you disconnect the secondary screen? (Not suggesting that as a solution—just good to know)
What OS are you running?
I believe I tried rotating it and disconnecting it a while ago to no avail. I'm running Windows 10 64bit.
Hi. The bug has been reported a second time by a streamer. She told me that it wasn't the first that she saw this happening and that it might be connected to Unity (and/or Windows 10) for some reason. One solution that we found was re-enabling the native Unity screen resolution dialogue. However, the demo does not support this and we will not be updating the demo (due to lack of time) until we have released the full version—Tuesday, January 17th.
Hallo!
I played the game demo and I really like the style and the puzzles. I'm looking forward for the full game.
There is however a problem regarding the font on my PC. This is what the credits screen looks like on my PC, and most of the other text has the same problem:
The problem does not occur when I'm playing the version of the demo from Steam, so I assume that some font files are missing from the version here. If you need some information about my PC, send me an email to
ingowarnke@gmx.de

Hi. Thanks for letting us know about this. We are using a plugin in Unity to render our custom font. It might be the cause of the problem. The version on itch is a bit older than the one on Steam. We will update the itch version to the newest build tonight. It might solve the problem. Please let us know.
The new build (2016-10-01 from the credits, here uploaded on 2016/10/03) works now. I tested the Windows version (forgot to tell that in my first post).